Management
Arrow Aviation Services Pvt. Ltd. revenues have grown steadily and it's credit goes to the team spirit and an efficient Management System. Here at Arrow Aviation, members of the management team are strategic thinkers, have diverse experience and combine business insight with technical competence. It's the Leadership skills and Organizational Development by the torch bearers of the company which has brought in success. Business is conducted in all respects according to rigorous ethical, professional and legal standards. The management is involved at every level of delivery, and responsible for executing the job & delivering results.
A vision for the future, encouragement for innovation and responsiveness to the customers, has kept the company ahead of the competition.
The Management team is a mix of youth, experience, and expertise.
Company President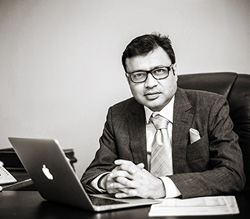 Mr. Samir Gupta carries a formidable reputation in the aviation industry.
A young entrepreneur, he had the vision of establishing the Arrow Aviation Group over 19 years ago. A graduate mechanical engineer by qualification, he has over 26 years of aviation experience and spearheads Arrow Group Companies. His reputation, networking and strategic foresight, as well as experience in aircraft part sales and product support, brings a great value addition to the industry.